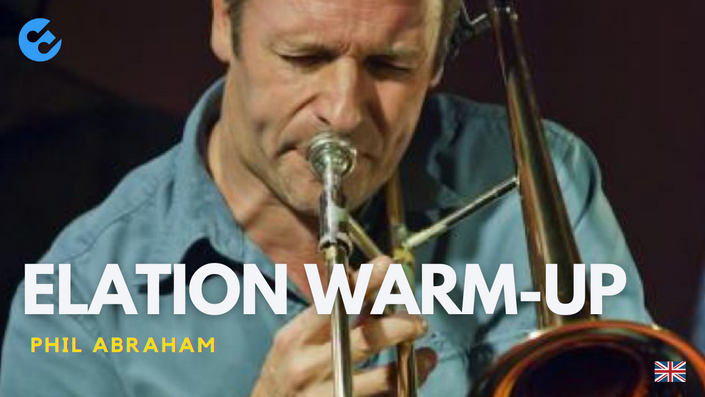 One of the first course topics jazz trombonist Phil Abraham developed for MMC is how to play warm-up exercises using jazz themes - jazz standards - as the foundation.

Trombone Elation Warm Ups result in your sound becoming richer, fuller, and more professional – immediately. You will feel like continuing to play, and it will help you to start your day like a pro!
Your personal pro!
How does Phil achieve that beautiful, full sound? Phil offers you an exclusive look into his unique warm-up exercises that form the basis of a professional sound.
Instant feedback

At the bottom of each part, there is space to ask a question, which Phil will answer personally.

Guaranteed lifelong success.
These warm-up exercises deliver what they promise. They assure that your sound becomes fuller, richer and more powerful – and this for the rest of your musical career!

"In four steps, Phil Abraham teaches you how to develop power, suppleness, breathing and trachea control through an essential warm-up. Bravo Phil for this hard work... that I really have to do!"


- Jean-Marc Farinone, Paris



Your Instructor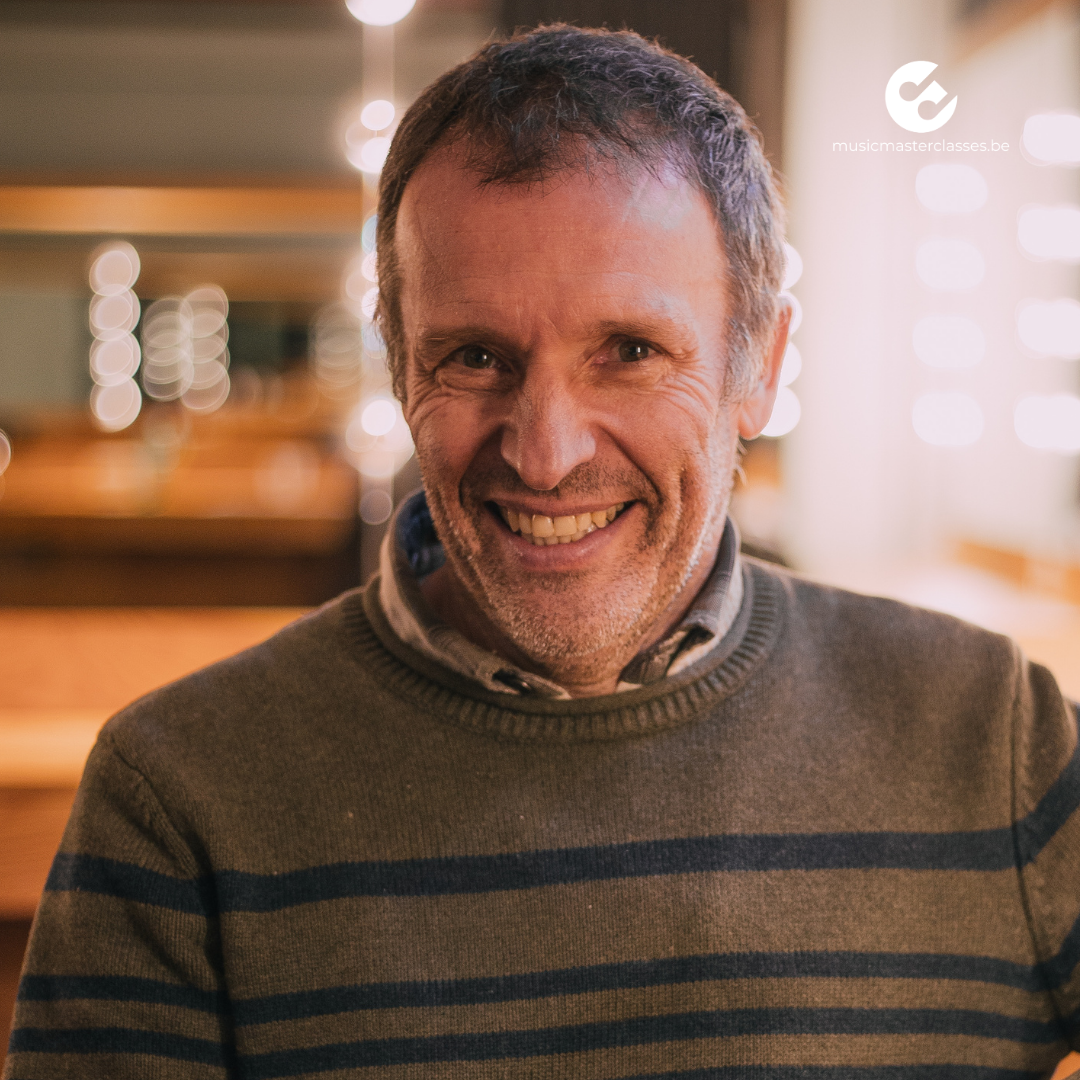 Evolution
After studying the classical piano, the guitar and harmony, Phil Abraham was seduced by jazz and the trombone, on which he is self-taught. His stylistic evolution is parallel to the history of jazz, and even if he is a modern soloist today, he has worked with a wide variety of great musicians.
Phil has taken part in more than sixty albums, eleven with his own group, with which he won many prizes. He has often been invited in big bands as a soloist. He took part in many recordings and concerts of the big band of the Belgian Radio (BRT). Phil Abraham also devotes his career to teaching, training courses and master-classes. He was a teacher of vocal improvisation in Antwerp and Brussels. He is now a jazz and trombone teacher at the Brussels Royal Conservatory and at the National Conservatory in Douai (France).
Has played with
Michel PETRUCCIANI, Charles AZNAVOUR, Claude NOUGARO, Clark TERRY, Hal SINGER, Toots THIELEMANS, Klaus IGNATZEK, John SURMAN, Art FARMER, Michel HERR, Andy EMLER, Paolo FRESU, John ENGELS, Dusko GOYKOVICH, Benny BAILEY, Bart VAN LIER, Henri TEXIER, Klaus WEISS, Deborah BROWN, Maria SCHNEIDER, John LEWIS, Lou BENNETT, Claudio RODITI, William SHELLER, Didier LOCKWOOD, Dee Dee BRIDGEWATER, Michel LEGRAND, Lucky PETERSON, Mino CINELU ...
Awards
1988 : first Prize at the International Jazz Contest in Sorgues (France)
1989 : Prize of the Best Soloist at the "Concours de la Défense" in Paris
1998 : chosen as the best Belgian and European trombone player by the listeners of the Belgian radio and the Belgian critics
1999 : elected once again the best Belgian and European jazz trombonist
2000 : second Prize at the International Contest of jazz soloists in Monaco.
His Quartet record "Stapler" (Igloo IGL 091), with Michel HERR, Jean-Louis RASSINFOSSE and Stéphane GALLAND was chosen as the CD of the month by the Belgian jazz magazine "Jazz In Time". His CD "En Public" (Lyrae records, LY9703007) was selected as the CD of the month by the French "Jazz Magazine" in October '97.
Events
Was chosen by the Belgian Radio (BRT) to represent Belgium in the Big Band of the European Broadcasting Union in Strasbourg (France). Was invited in 1994 as a soloist at the Moscow Concert Hall for a TV concert with the Moscow Big Band. Was the first Belgian Jazzman to be a member of the "Orchestre National de Jazz" in France, that he joined for 3 years with Laurent CUGNY, then stayed with Didier LEVALLET for additional 3 years. Replaced Bob BROOKMEYER in Michel PETRUCCIANI sextet, with Victor JONES (drs), Anthony JACKSON (bass), Flavio BOLTRO (tp) and Stefano DI BATTISTA (sax). Participated (1998) in the album "Jazznavour" of the French singer Charles AZNAVOUR, in which he played all the trombone parts. Other participants include Jacky TERRASSON (p), André CECCARELLI (drs), Remy VIGNOLO (b). Arrangements are by Pierre DREVET (tp) and there are other celebrity guests like Michel PETRUCCIANI, Diane REEVES, Richard GALLIANO and Eddy LOUIS ...
Was a member of the International Dusko GOYKOVICH Big Band (February 2004) for a big TV-concert in Belgrade supported by the Minister of Culture.
Has developped a new jazz trombone for the Courtois Company, the Xtreme AC 430T model. Check this professional trombone here
Was invited in Seattle in May 2013 for concerts and master-classes, recorded a new album in New York in February 2014 with Sylvain Luc (g), Hein Van de Geyn (cb) and Mino Cinelu (perc) + Bria Skonberg (tp) - guest, won an award in Los Angeles in 2017 and went there for master classes.
What will you receive during this course?
The course offers you a series of valuable warm-up exercises that you will benefit from throughout your musical career.
You will also receive backing tracks and a workbook – invaluable reference tools for you to make continual adjustments to your playing.
You can also count on the personal feedback of the master himself. At the bottom of each video, there is space to ask your questions, which Phil will support personally.
Who is this course intended for?
Intermediate to advanced level.
What prerequisite knowledge is needed?

This warm-up is not for starting trombonists, because the placement of the notes needs to be mastered fully.
Course Curriculum
Trombone Elation Warm-Up
Available in days
days after you enroll
Frequently Asked Questions
When does the course start and end?
This course starts now, and it will never end. You follow the course online and at your own pace. Whether you take tea breaks, or work through it all in one go is for you to decide!
How long will I have access to the course?
For the rest of your life! After your registration, you will have unlimited access to this course for as long as you like and across all your devices.
What if I am not happy with the course?
We don't want you to be dissatisfied! In case you are, just contact us within 14 days of registration and we guarantee a full refund. No hassle, no risk.