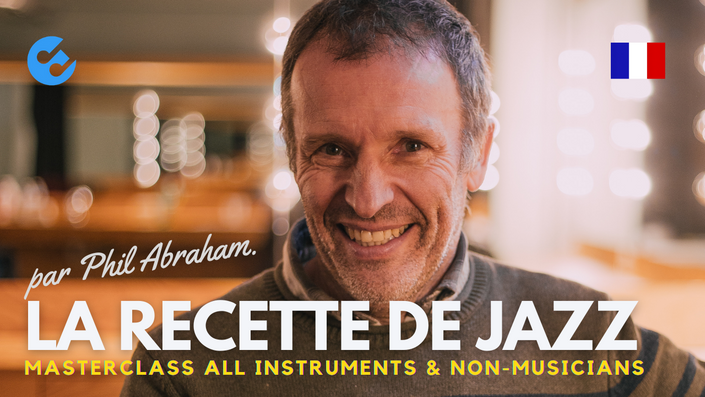 LA RECETTE DE JAZZ
Que sont les ingredients du jazz? Masterclass et cours en ligne pour tout le monde!
Enroll in Course
Phil Abraham neemt je mee naar de oorsprong van de jazz-muziek.
Hij gaat samen met jou op zoek naar wat Jazz werkelijk is.
Wat zijn de bouwstenen, wat zijn de 'geheime' ingrediënten van jazz?
"Improvisatie!" hoor ik u steevast denken, maar iets is minder waar! Wat dan wel? Dat vertelt de Franstalige jazzmuzikant Phil Abraham aan iedereen die het horen wil.
Phil Abraham vous emmène aux origines de la musique jazz et avec vous, il explore ce qu'est vraiment le jazz.
Quels sont les éléments constitutifs, quels sont les ingrédients «secrets» du jazz?
Je vous entends invariablement penser à l'improvisation! Rien n'est moins vrai!
Alors quoi? Le musicien de jazz Phil Abraham raconte cela à quiconque veut l'entendre.
Your Instructor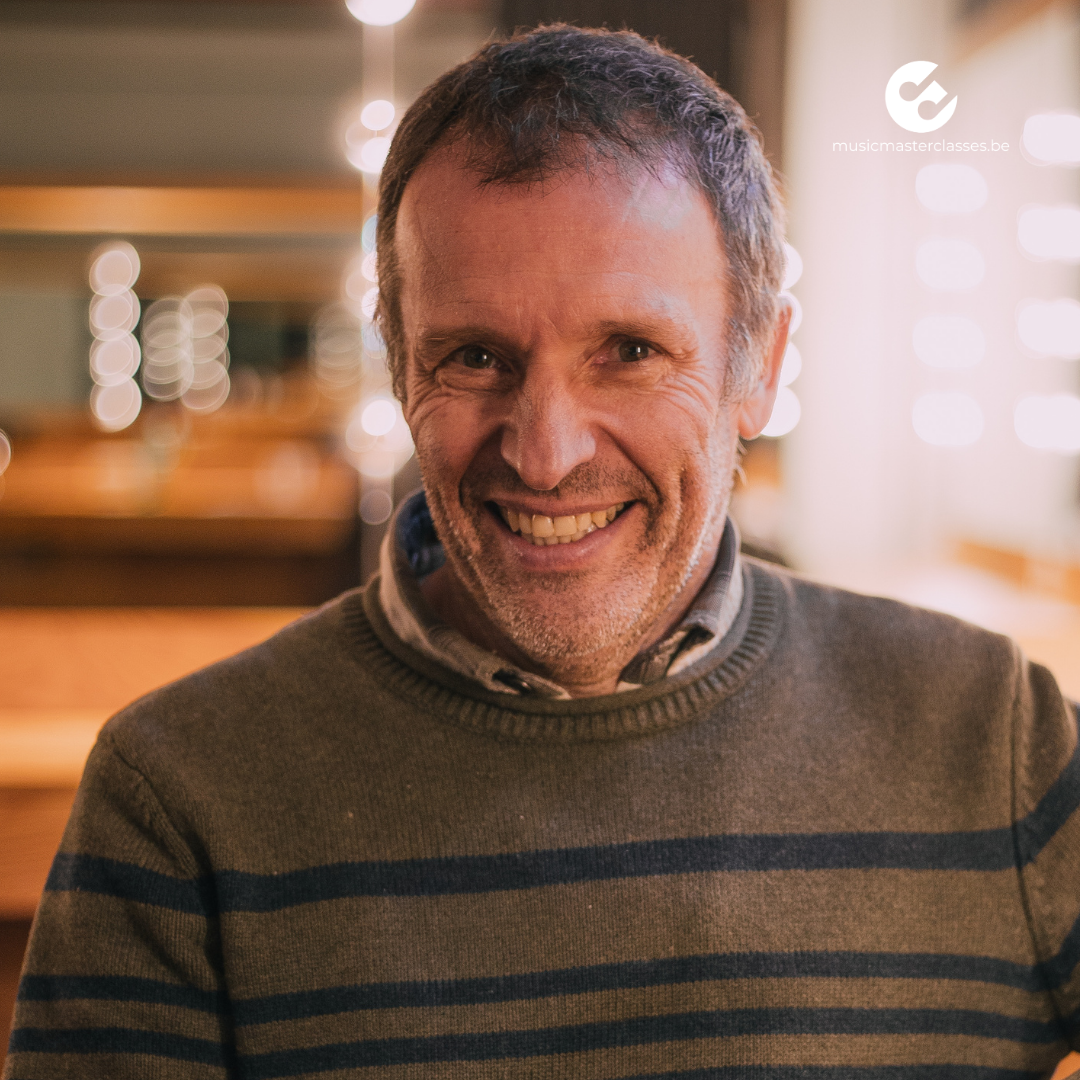 Evolution
After studying the classical piano, the guitar and harmony, Phil Abraham was seduced by jazz and the trombone, on which he is self-taught. His stylistic evolution is parallel to the history of jazz, and even if he is a modern soloist today, he has worked with a wide variety of great musicians.
Phil has taken part in more than sixty albums, eleven with his own group, with which he won many prizes. He has often been invited in big bands as a soloist. He took part in many recordings and concerts of the big band of the Belgian Radio (BRT). Phil Abraham also devotes his career to teaching, training courses and master-classes. He was a teacher of vocal improvisation in Antwerp and Brussels. He is now a jazz and trombone teacher at the Brussels Royal Conservatory and at the National Conservatory in Douai (France).
Has played with
Michel PETRUCCIANI, Charles AZNAVOUR, Claude NOUGARO, Clark TERRY, Hal SINGER, Toots THIELEMANS, Klaus IGNATZEK, John SURMAN, Art FARMER, Michel HERR, Andy EMLER, Paolo FRESU, John ENGELS, Dusko GOYKOVICH, Benny BAILEY, Bart VAN LIER, Henri TEXIER, Klaus WEISS, Deborah BROWN, Maria SCHNEIDER, John LEWIS, Lou BENNETT, Claudio RODITI, William SHELLER, Didier LOCKWOOD, Dee Dee BRIDGEWATER, Michel LEGRAND, Lucky PETERSON, Mino CINELU ...
Awards
1988 : first Prize at the International Jazz Contest in Sorgues (France)
1989 : Prize of the Best Soloist at the "Concours de la Défense" in Paris
1998 : chosen as the best Belgian and European trombone player by the listeners of the Belgian radio and the Belgian critics
1999 : elected once again the best Belgian and European jazz trombonist
2000 : second Prize at the International Contest of jazz soloists in Monaco.
His Quartet record "Stapler" (Igloo IGL 091), with Michel HERR, Jean-Louis RASSINFOSSE and Stéphane GALLAND was chosen as the CD of the month by the Belgian jazz magazine "Jazz In Time". His CD "En Public" (Lyrae records, LY9703007) was selected as the CD of the month by the French "Jazz Magazine" in October '97.
Events
Was chosen by the Belgian Radio (BRT) to represent Belgium in the Big Band of the European Broadcasting Union in Strasbourg (France). Was invited in 1994 as a soloist at the Moscow Concert Hall for a TV concert with the Moscow Big Band. Was the first Belgian Jazzman to be a member of the "Orchestre National de Jazz" in France, that he joined for 3 years with Laurent CUGNY, then stayed with Didier LEVALLET for additional 3 years. Replaced Bob BROOKMEYER in Michel PETRUCCIANI sextet, with Victor JONES (drs), Anthony JACKSON (bass), Flavio BOLTRO (tp) and Stefano DI BATTISTA (sax). Participated (1998) in the album "Jazznavour" of the French singer Charles AZNAVOUR, in which he played all the trombone parts. Other participants include Jacky TERRASSON (p), André CECCARELLI (drs), Remy VIGNOLO (b). Arrangements are by Pierre DREVET (tp) and there are other celebrity guests like Michel PETRUCCIANI, Diane REEVES, Richard GALLIANO and Eddy LOUIS ...
Was a member of the International Dusko GOYKOVICH Big Band (February 2004) for a big TV-concert in Belgrade supported by the Minister of Culture.
Has developped a new jazz trombone for the Courtois Company, the Xtreme AC 430T model. Check this professional trombone here
Was invited in Seattle in May 2013 for concerts and master-classes, recorded a new album in New York in February 2014 with Sylvain Luc (g), Hein Van de Geyn (cb) and Mino Cinelu (perc) + Bria Skonberg (tp) - guest, won an award in Los Angeles in 2017 and went there for master classes.
Qu'allez-vous apprendre pendant ce cours?
Wat leer je tijdens deze cursus?
Deze masterclass beantwoordt de vraag: Wat maakt jazz tot jazz?
Cette masterclass répond à la question: qu'est-ce qui fait du jazz le jazz?
A qui s'adresse ce cours?
Voor wie is deze cursus bedoeld?
Pour tous ceux qui aiment la musique!

Voor iedereen die van muziek houdt!

Qu'est-ce que la connaissance préalable est nécessaire?
Welke voorkennis is er nodig?

Er is geen enkele voorkennis nodig, alleen de liefde voor muziek!
Aucune connaissance préalable n'est requise, seulement l'amour de la musique!

Course Curriculum
La recette de jazz
Available in days
days after you enroll