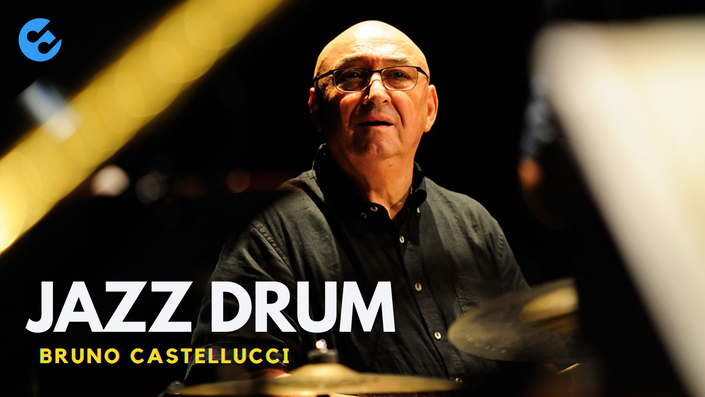 PRE-SALE: Jazz Drum by Bruno Castellucci
PRE-SALE: ENROLL NOW @ EARLY BIRD RATE with COUPON " JAZZDRUM_EARLYBIRD " (available till FALL 2020)
Course Curriculum
Technique instrumentale
Available in days
days after you enroll
Technique rythmique
Available in days
days after you enroll
Technique de l'independance
Available in days
days after you enroll
Your Instructor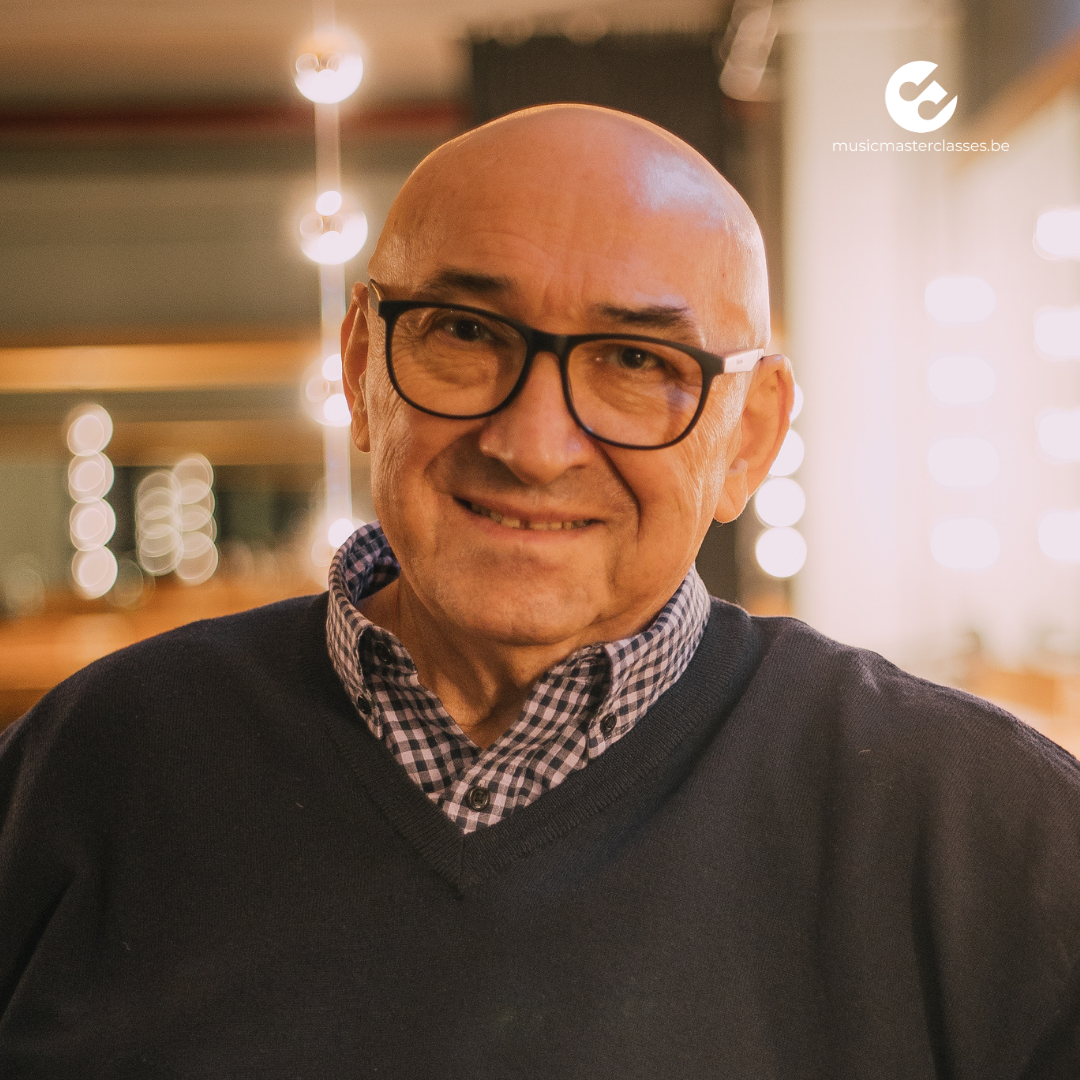 Bruno Castellucci,born in Chatelet,Belgium
Since the age of 14,play the drums as a self-taught person.
1962 Win the 1° price of drums at the Adolph Sax Jazz Festival ,Dinant, Plus Price of the best quartet ( Les cinq Daltoniens fatigués moins un ).
Play with René Thomas,Bobby Jaspar,Jacques Pelzer,Maurice Simon,Jean Leclec, Francis Boland.
1963 Member of the Alex Scorier Jazz Quintet.
Play with Slide Hampton,Art Farmer,Johnny Griffin,Benny Carter,Joe Pass,Walter Norris,Jigg's Wiggham,Ferdinand Povel,Tete Montoliu,Palle Mikkelborg,
Nathan Davis,Clark Terry,Red Rodney,Howard Johnson,Niels H H Pedersen.
1970 Recording sessions in Belgium, Holland, Germany, England, France, Italy, Canada, Austria, Switzerland, USA, Japan, Brasil.
1974-1980 Member of the BRT Jazz Orchestra

Since 1972 Regular member of the Toots Thielemans quartet.
1976 Represent Belgium as a soloist at Pori Jazz festival,Finland.
1977 Represent Belgium at Lubijana Jazz Festival .

1978 Belgium soloist at the EBU Nordring radio concert.
1977-1979 Member of the Jan Ackerman band.
Since 1980 Member of the Peter Herbolzheimer Rhythm Combination and Brass.
Part of discography : Toots Thielemans, Jan Akkerman, Phill Woods,Charlie Mariano, Tony Scott,Jasper Van T'hof,Tom Scott,Niels HOP, Airto Moreiral, Mike Blass, Jigg's Wiggham, Peter Herbolzheimer big band, PhilipCatherine, Michel Herr, Peter Thiehuis, Michel Hatzigeorgiou, Johannes Farber, Herb Geller, Rob Franken,Riccardo del Fra,Joerg Reiter,Vladislav Sendecki, Ack Van Rooyen, Jerry Van Rooyen, Eef Albers, Quincy Jones,Jaco Pastorius, Jacques Pelzer, Lee Konitz, Fred Hersch , Chet Baker,
Red Mitchell,Tom Harrel,Jean-François Prins, Judy Niemack, Richard Galliano, Paul Kuhn, Dieter Ilg, Wim Overgauw, Heinz von Herman,Tom Salisbury,Paolo Radoni,Dee Daniels, Steve Houben, Gordon Beck,J-L Rassinfosse, Anne Ducros,Didier Lockwood,Paolo Loveri, Benny Bailey,Eric Legnini, Bill Frisell, John Taylor, Uli Beckerhof, Stan Sulzman, Bill Frisell, Dianne Reeves...
Concerts and TV shows: Samy Davis Junior, Al Jarreau,Elton John,Count Basie Orchestra,José Feliciano,Benny Goodman, Astor Piazzolla,
Teddy Wilson,Marcel Azzolla,Charles Aznavour,Birelli Lagrene,Claudio Roditi,Bob Mintzer Klaus Ignatzek,Miroslav Vitous,Joe Pass,Freddy Hubbard,Frank Rossolino,Ray Brown, Tina Turner,Joachim Kühn,Stan Getz,Lionel Hampton,Mike Richmond,Luigi Trussardi, Gilles Nicolas,John Abercrombie,Eliane Elias,Marc Johnson,Joe Beck,Chaka Khan,
Ali Reyerson,Gustavo Bergalli,Georges Mraz,Dori Caimi,Norma Winston, Dizzy Gillespie, Maria Pia de Vito,Ivan Lins,Oscar Castro Neves,Kenny Werner,Jeff Berlin,Dick Oatts, Gary Smulyan,Joe Zawinul,Nilson Matta,John Snauwaert,New-York voices,
Paquito d'Rivera, Sam Dillon ,Frank Basile....
1978-1986 1985-1988 1986-2010 1988-2017 2010
Professor at the Royal Liège Conservatory
Professor at the Rotterdam Conservatory
Professor at the Brussels Music Academia
Professor at the Royal Brussels Jazz Conservatory
Professor at the DrumsHighSchool Brussels
Master classes/Seminars: Germany : France: Austria: Holland: Taiwan: Liechtenstein.
Tours : Bundes Jazz Orchestra,Trier Jazz Seminare,Kleves, Bremen,Hamburg,Francfurt,Trossingen.
European Jazz Academy Peter Herbolzheimer, Berklee Meets Europa in Heek
Limoges ,St Yriez. Wien,Klangenfurt,Lochau,Feldkirch,Graz. Groningen,Maastricht,Henschede.
Tija Taiwan Workshop.
European Jazz Triesen (Vaduz).
Sweden,Germany,France,Italy,Holland,Spain,Portugal, Israëll,England,Scotland,Japan,Kazakstan,Indonesia, Malesia,Vietnam,Taiwan,Norway,Poland,Serbia,Slovenia Czech republic,Grece,Turquie,Saudi Arabia,Dubai, Marocco,Algeria,Tunisia,Curraçao,Swizerland,Hungary, Austria,Estonia,Finland,Danmark,Canada,USA,Brasil
1989,Creator of the Duo series cymbals in collaboration with SABIAN Cymbals CANADA. Designer of signature stick at Vic Firth International series USA.
Cd records as leader at Quetzal records: Bim Bim ( QZ 101)
Castellucci Stringtet ( QZ105) Lost and Found ( QZ107)
Bas Bulteel Trio CD Coming Home winner of Klara's Best Jazz Album 2014
———————————————————————
Course Curriculum
Technique instrumentale
Available in days
days after you enroll
Technique rythmique
Available in days
days after you enroll
Technique de l'independance
Available in days
days after you enroll
Frequently Asked Questions
Wanneer start en eindigt de cursus?
Deze cursus start nu, en houdt nooit meer op. Je volgt hem online en helemaal op eigen tempo. Tijd voor een theetje, of ga je er nu helemaal voor? Jij beslist!
Hoe lang heb ik toegang tot de cursus?
Levenslang! Na je inschrijving heb je ongebreidelde toegang tot deze cursus zo lang je wil, op al jouw toestellen.
Wat als ik niet tevreden ben met de cursus?
We willen niet dat je ontevreden bent! Als je dat toch zou zijn, contacteer ons dan binnen de 7 dagen en we garanderen je een volledige terugbetaling. Geen gedoe, gewoon zonder risico.