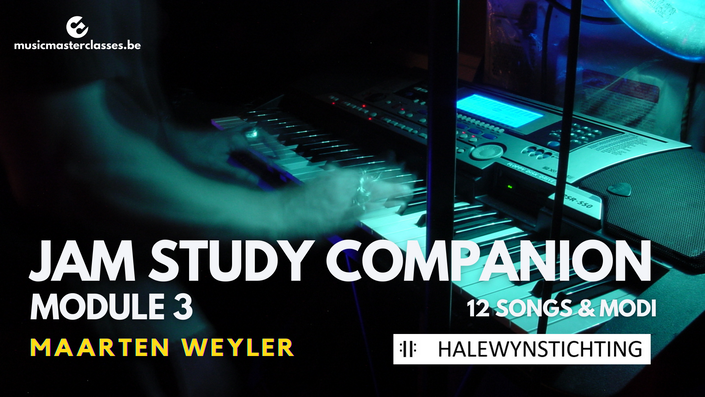 JAM STUDY COMPANION Module 3
12 Songs + meer over lenen uit mineur, reharmonisaties, modi, eartraining, oefenen/voorbereiden...
Welkom bij de derde module van JSC!
Deze module is een onderdeel van het JAM STUDY COMPANION-abonnement, dat beschikbaar is voor slechts €9,99 (bereikbaar via module 1). Maar kun je ook apart aankopen.
Je leert opnieuw 12 songs kennen en neemt er o.a. de modi onder de loep en er wordt extra geoefend op gehoor.
Het maakt deel uit van het JSC-abonnement.
Bij elke song krijg je een musescore-file en zo kan je de melodie en de akkoorden leren kennen.
Die worden tijdens de video's geanalyseerd en verduidelijkt.
Daarnaast zijn er ook meerder oefeningen over deze theorie beschikbaar
Zo bouw je een mooi gefundeerd repertoire op.
Your Instructor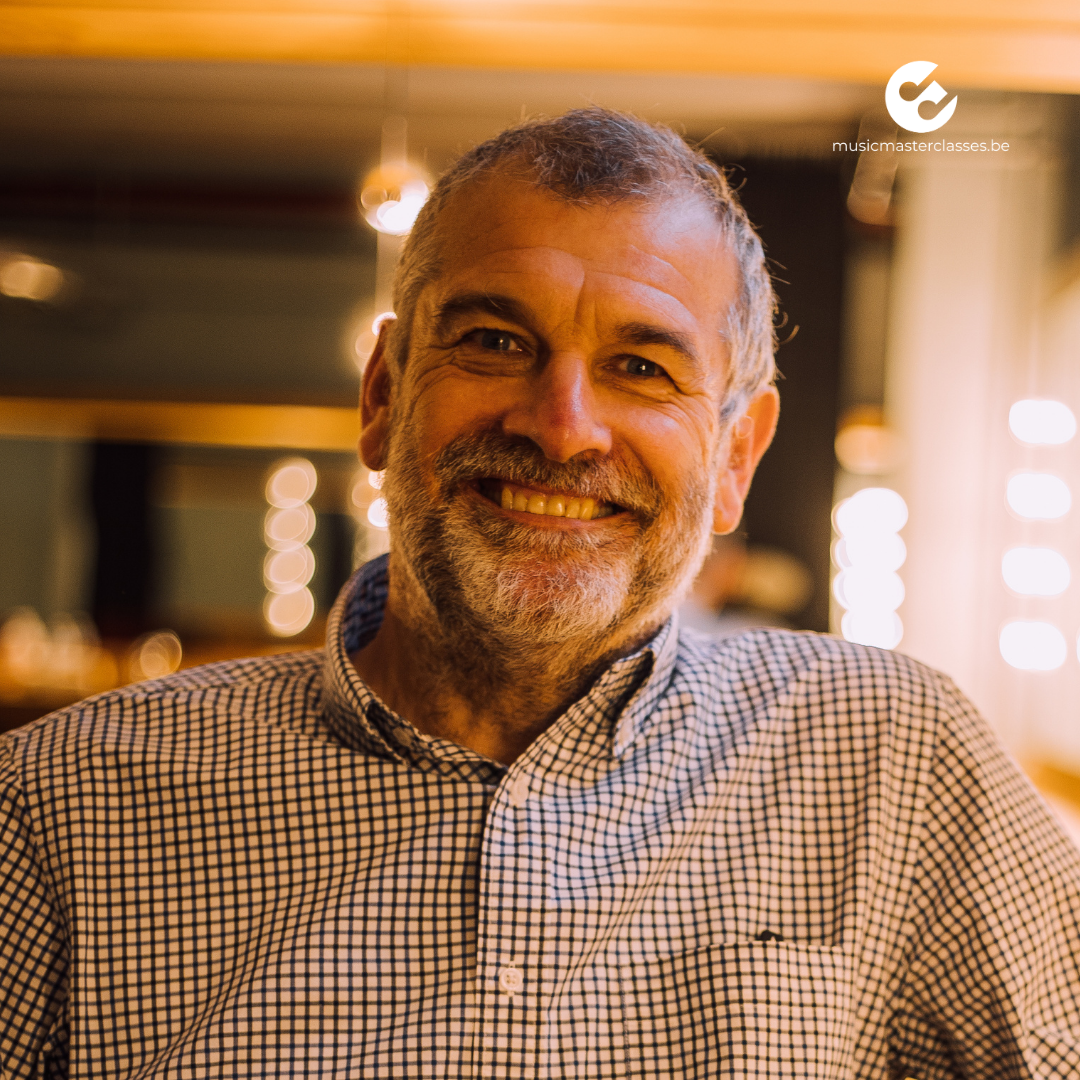 Bassist, docent aan de School of Arts – Koninklijk Conservatorium in Gent en cultureel educator bij Halewynstichting vzw.
Studeerde in 1977 aan Berklee College of Music (Boston, USA); in 1982 afgestudeerd aan de Gentse Rijksuniversiteit als licentiaat in de Kunstgeschiedenis, richting musicologie en in 2001 als master in de archeologie aan dezelfde universiteit.
Stichter van Jazz-Studio (1984), de eerste volledige hogere dagopleiding voor jazz in België en sinds 2002 theorie- en praktijkdocent aan het Koninklijk Conservatorium in Gent (harmonie, arrangement, onderzoeksmethodologie, combo e.a.) en promotor van verschillende onderzoeksprojecten binnen het domein van muziek. Van 2014 – 2018 docent aan het Istanbul University State Conservatory en in deze hoedanigheid verantwoordelijk voor het ontwikkelen en opstarten van het jazz programma aan dit instituut. Sinds 2018 coordinator en docent aan het Kanazawa jazz-camp (Japan).
Sinds 1982 actief als cultureel educator bij Halewynstichting vzw, gespecialiseerde vormingsinstelling voor actieve muzikale ontwikkeling en verantwoordelijk voor de organisatie van allerlei lessenreeksen, workshops, zomerstages en andere vormingsactiviteiten. Verder voorbereiding en ondersteuning bij de nieuwe beleidsperiodes binnen de wisselende decreten (amateurkunsten, volksontwikkeling en tenslotte binnen het decreet op het sociaal-cultureel vormingswerk voor volwassenen). In deze functie organisator van workshops en masterclasses met nationale en internationale docenten zoals John Lewis, Joe Lovano, John Clayton, Billy Hart, Dr. Mike Rossi, Dr. Gloria Cooper, Prof. Dr. Ludolf Lützen, Riccardo DelFra, Peter Eldridge, e.a.
Vanaf 1978 actief als professional bassist bij verscheidene groepen (Milkshake Banana, Celluloid, Orchestre Alex Scorier e.a.), als freelance muzikant (concerten in Nederland, Luxemburg, Duitsland, Frankrijk, Zwitserland, Griekenland, Spanje, Italië, Turkije en USA) en bij verscheidene theatergezelschappen (KNS, KJT, "Jasperina De Jong" Show).
Is een frequent deelnemer aan verscheidene congressen (Jazz Educators Network, Association Européenne des Conservatoires, Joi.Con, TI:ME, AEC/Pop Jazz Platform).
Course Curriculum
Les 1: intro, alle drieklanken, reharmonisaties & Fly Me To the Moon in 4/4 en Don't Get Around Much Anymore
Available in days
days after you enroll
Les 2: Vierklanken, lenen uit parallel mineur, reharmonisatie vervolg en een 'modale' song, Eleanor Rigby & Lester Leaps In
Available in days
days after you enroll
Les 3: Modi & toepassingen, Line Cliché, een speciale baslijn met Footprints (W. Shorter) & No Time To Die (B. Eilish) met modaal en IV mineur…
Available in days
days after you enroll
KIES VOOR HET JSC-ABONNEMENT EN KRIJG TOEGANG TOT ALLE MODULES
---